How Pergola Designs can renovate your backyard?
Are you looking for ways to improve the look of your backyard?
Well, incorporating a pergola-covered deck into your outdoor living space is a great way to make it more inviting. Everyone loves to spend time outside during the summer months, but the sun or rain may soon put an end to that. Protecting your property with a patio cover or pergola allows you to spend more time outside. To put it another way, a well-designed expansion may improve the look of a home while simultaneously adding a conspicuous feature.
Let us see how…?
Pergolas are an excellent addition to any property since they give shade, provide shelter, and may improve the overall appearance. With many various design possibilities that merge smoothly, a pergola or patio cover is a wonderful way to boost your home's architecture and landscaping. These constructions may complement any style of home, from little to huge, regardless you live in a big city or in the country.
What are the different pergolas designs that can deck up your space?
There are many various pergola types, each with its own set of advantages, and deciding which one is best for you is a matter of personal preference.
Freestanding: It is much of a stand-alone structure which is frequently used to create outdoor living areas, such as in the garden, pool deck, or along the side of the structure.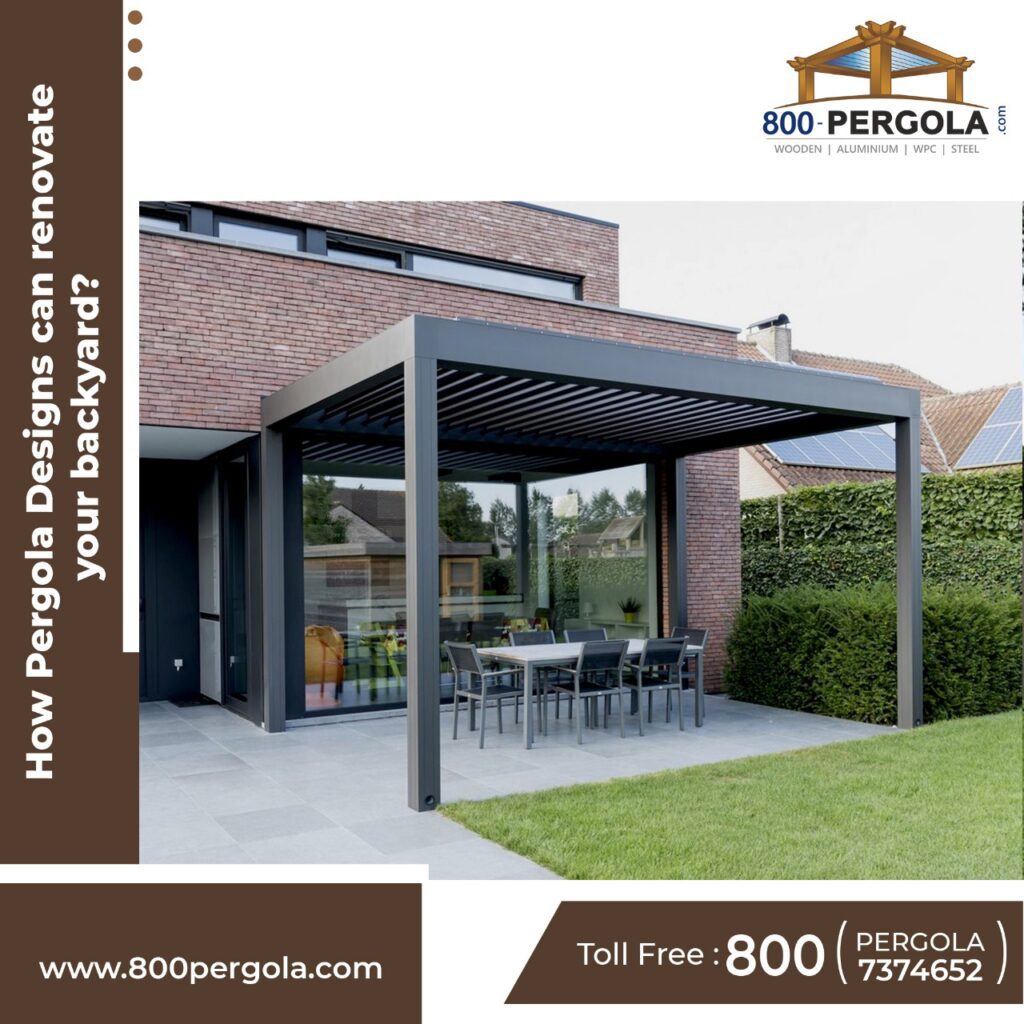 Attached: Installing a linked pergola to your house may transform your outdoor space. One of the numerous advantages of a connected pergola is that it is linked to your home's wall, allowing it to provide shelter or protection throughout the day. Furthermore, rather than seeming like a distinct element, it will make your outdoor living room feel like an addition to your internal living space.
Arched: If you want to compliment the contour of your garden, an arched pergola is a good option. Arches may add elegance to your pergola and give it a more unique aspect than a level roof.
Louvered Pergola: A louvered pergola is a one-of-a-kind structure. It is built using vertical slats that may be raised and lowered like a window to let in more or less light as needed. Perforated pergolas are a cost-effective solution to protect your house or company from the sun's harmful rays.
Awning: Awning pergolas are small pergolas that affix directly to the wall and do not require support pillars or beams. For shade and beauty, an awning pergola can be installed over a door, window, or garage.
What are the benefits of installing one of these pergolas?
They enhance the view: When you look at your lush landscape and blossoming plants, you could notice that something is lacking. Look for a location where the Pergola may be precisely positioned to improve the appearance of your garden at all times. You can relax beneath your pergola and take in the serenity and tranquility.
They create a Private Space: Despite the fact that pergolas are open-structure structures, by adding embellishments to them, you can build a privacy shade that blocks off unwanted views and ensures you have privacy when you want to spend time with your dear ones in the garden.
They help you enjoy the outdoors: Do you really want to sit on your lawn and enjoy but the temperature is unbearable and is forcing you to stay indoors?  You can keep cool while still spending time outside with a wooden pergola. A pergola is an open environment that allows the light and air to flow freely. Further, installing a slatted roof helps you to block the majority of the sunrays. This manner, even if it's hot outside, you can stay cool and peaceful and savor the day.
They connect with your aesthetic appeal: Pergolas are the most challenging backyard design to make due to the wide range of designs, shapes, and sizes available. Wooden pergolas are ideal for showcasing your outside living space. You may add artistic appeal to your garden and make it appear lovely without putting in a lot of effort by using modern and classic designs.
They increase the value of your home: Although it may appear cliched, practically every homeowner ends up with a backyard pergola. It efficiently designs your landscape and highlights your area. As a result, if you decide to sell your home in the future, the pergola in your garden area will instantly raise the value of your property.
Conclusion
A pergola or patio cover adds shade and sun protection to your house and garden, and it's a beautiful feature that you'll enjoy for years. 800 PERGOLA takes pleasure in designing and creating decks that improve outdoor living, home value, and lifestyle. They've acquired a reputation as industry experts and all thanks to their commitment to high-quality materials, layouts, and years of experience as pergola suppliers and installers in Dubai. You can get your pergola installed today by connecting with them.